New businesses may come and go, but cash flow ultimately determines whether or not a business will be running long enough to see it thrive.
Companies cannot flourish, let alone survive, without positive cash flow. Keeping your cash flow in order is essential to any business, big or small. With an accurate cash flow forecast, you'll know the exact amount of funds you have available at any given moment.
Why accuracy and reliability are essential
Producing reliable and regular cash flow forecasts means that your business will know if it is appropriate to make any significant purchases at that time.
This issue could come up for several reasons, such as not keeping up efforts on issuing invoices to clients, or collecting overdue debts.
Knowing where your money goes is vital as the foundation of any strategies or decisions you make.
Suppose you don't manage your cash flow. In that case, owners, directors or those with authority within the business could be making decisions due to inaccurate information and put your business at risk.
Reason keep on top of your business spending
Knowing your cash flow makes for better business decisions
If you control your cash flow effectively, and you'll gain a more reliable understanding of where you're currently allocating your money, something you won't receive in a profit and loss statement.
So it's essential to know precisely where the money you spend is going and why plus keeping a record of this information somewhere.
A business could discover areas to cut costs, which always has to be looked into more frequently.
Maintaining business relationships
Any business could at any point run into cash flow problems, for whatever reason. If that happens, the company may not have the cash required to pay its suppliers.
Not having the cash required to pay those you do business with will hurt the relationship. It's similar to borrowing a considerable amount of cash from family or friends, promising you will pay them back by a specific date and not doing so. Failing to pay back anyone will strain a relationship and damage the reputation of the side, promising to pay back the money on time.
Trust is earned, respect is given, loyalty is demonstrated, and betrayal of any one of those is to lose all three.

Ziad K. Abdelnour, Economic Warfare: Secrets of Wealth Creation in the Age of Welfare Politics
One way to avoid cashflow problems is to engage with one of our Financial Controllers. They will help reduce the strain and stress on you and your finance team by:
Planning ahead so you know what money is coming in and what you need to pay out, and when
Setting payment schedules at appropriate times of the month using such reports as a cash flow forecast and up-to-date management accounts
Avoiding a month end panic of having to pay multiple invoices or bills simultaneously
Giving you advance warning of cashflow problems, so you have time to take appropriate action
Improve your cash flow with a financial controller
A study found that 82% of businesses fail due to cash flow obstacles and 29% because they run out of cash.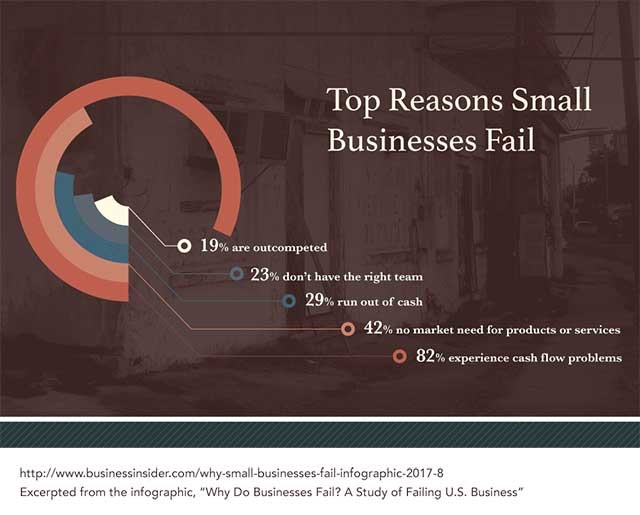 Cash flow problems don't spring up out of nowhere. They are commonly an accumulation of delayed tasks due to business owners being busy with their other duties, projects and responsibilities, or a result of focusing on the wrong things. We would be delighted to help you take control of your cashflow and your business – just get in touch with us.
Found this information useful?
If you found any of these points useful, we have a growing library of related information on how to improve your business in all sorts of ways.
We support small and not so small businesses to achieve their financial goals, predictable revenue and help shift the mindset of business owners to a leadership role.
Click the link to learn about our Business Improvement Packages.
Fill in your details below if you would like to subscribe to our Monthly Mentor email list. We send out useful tips and information about what we call "The 4 Pillars of Business Improvement" based on building a strong foundation for your business to stand on, plus industry-related news and case studies of business owners achieving their goals.